Nerf-Combat.co.uk is part of Red Cactus Events LTD. We specialise in organising UK activity weekend events and have sent 1000's of people away to all parts of the UK and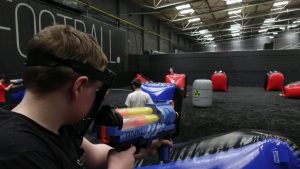 Europe. We have built up a network of suppliers covering the whole of the UK so we can offer Nerf Combat events in all major cities, towns and surrounding areas.

Our dedicated team not only organise your Nerf Gun Wars experience, but we can also help organise everything from your travel arrangements to your accommodation and other activities wherever you may be in the UK. We provide the full package that includes a free online group website, Nerf Combat host and all equipment required for your event. If you require a venue, Pitch hire can also be included in set location.
Enquire today and begin booking your Nerf Gun Wars event!